Simple eShop Features
We have included everything you will need to make selling your products online a success. Everything about our system has been simplified to make managing a powerful eCommerce website child's play.
Website Features
Website Designed For Your Business
Your new online shop will be specifically designed for your business. We can match the colour scheme of your business and include any logo or images you already have. Alternatively we can design a completely new look for your site at no extra charge.
Search Engine Friendly
Our online shops have been designed to be search engine friendly. Using the latest techniques our system will maximise the traffic the search engines send your way. We will also assist you in entering your products descriptions and content to help push your products up the search engine results.
Unlimited Products
You can have as many products as you like on your webshop. So no matter how large you product range our system can handle it.
Unlimited Categories
Use as many categories as you like to organise the products on your site. Each category can have as many sub-categories as you want and each sub-category can have as many sub-categories as you want and each sub-sub-category can have as many sub-categories as you want and...... I think you get the idea.
Unlimited Product Images
Each product can have as many images as your like so you can show different angles, different colours or anything else you want. You can also label each image so for example if the product is available in different colours you can make it clear which image represents which colour.
Send To A Friend
People often see a product that someone they know might like. The "Send To A Friend" link allows them to send a link to a product on your site to one of their friends.
Ask Us About This Product
Your potential customers have an easy way to ask you about a particular product. Using the "Ask Us About This Product" link your visitors can quickly get in touch regarding a product.
Social Bookmarking
The "Bookmark This Page" link on the product pages lets your shops visitors use their preferred bookmarking or social networking site to easily save and share links to your site.

Receive Online Payments
Our system has been designed to work with any payment processor you wish to use. So whether you want to use a free Paypal account or a dedicated payment gateway such as Worldpay you'll be able to use our system to securely take your customers debit / credit card payments.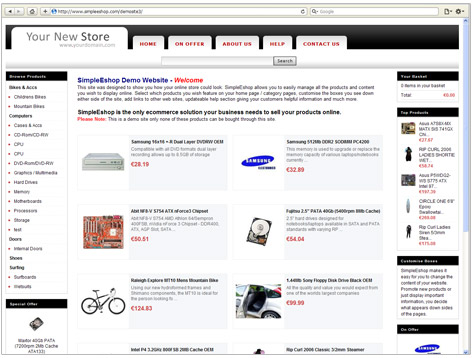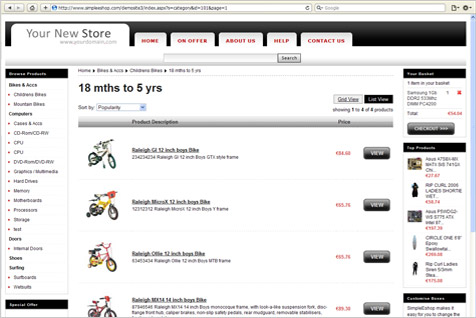 And That's Not All
There are too many feature to list so why not start your free trial and see for yourself just how effective our web sites are. We are also working hard on a whole host of new features giving even more power to an already powerful system.